RIO CELESTE HIDEAWAY HOTEL AT THE VOLCAN TENORIO NATIONAL PARK, COSTA RICA
The Truly Authentic Rainforest Experience
Río Celeste Hideaway is a small resort-style and ecologically-conscious hotel that provides a truly unique experience. Our beautiful hotel in Costa Rica is located just an hour's drive from the Arenal Volcano area and 90 minutes from the Liberia International airport (LIR), next to the Tenorio Volcano National Park, where the amazing Rio Celeste gains its sky-blue color and close to the Miravalles Volcano. We offer spacious comfort, a wonderful restaurant and amenities, surrounded by a natural paradise. Be prepared to experience a lush tropical rainforest and spot exotic animals during your stay!
Rio Celeste Hideaway Experience
Our location provides an ideal place to enjoy all kinds of outdoor adventures such as horseback riding along the river, white water rafting only 40 minutes away, tubing in the Celeste river and Arenal's attractions less than an hour away. Each one of our 26 spacious casitas, or bungalows, provides an exclusive retreat so you, our dear guests, can relax amidst the breathtaking views.
Tripadvisor Best of the Best 2021
We have been recently awarded Best of The Best by TripAdvisor on the 1% Best Hotels in The World, Best 25 Safari Stays Worldwide, and 25 Best Small Hotels in Costa Rica Categories. Don't miss the opportunity to experience the rainforest and its wonders at the Rio Celeste Hideaway Hotel!
Amongst other natural wonders in our area, our Tapir Nature Reserve is home to several flagship and endangered species, including the largest Neotropical Mammal: the Baird's Tapir. Due its key role in forest restoration, this forest giant is considered the gardener of the forest. To monitor and secure the conservation of Tapirs and other endangered species, we have teamed up with @crwildlife and @naiconservation.
This is just one of the many emblematic animal species you can watch in our property. We will be happy to have you at the Rio Celeste Hideaway Hotel and provide our world-class service to you!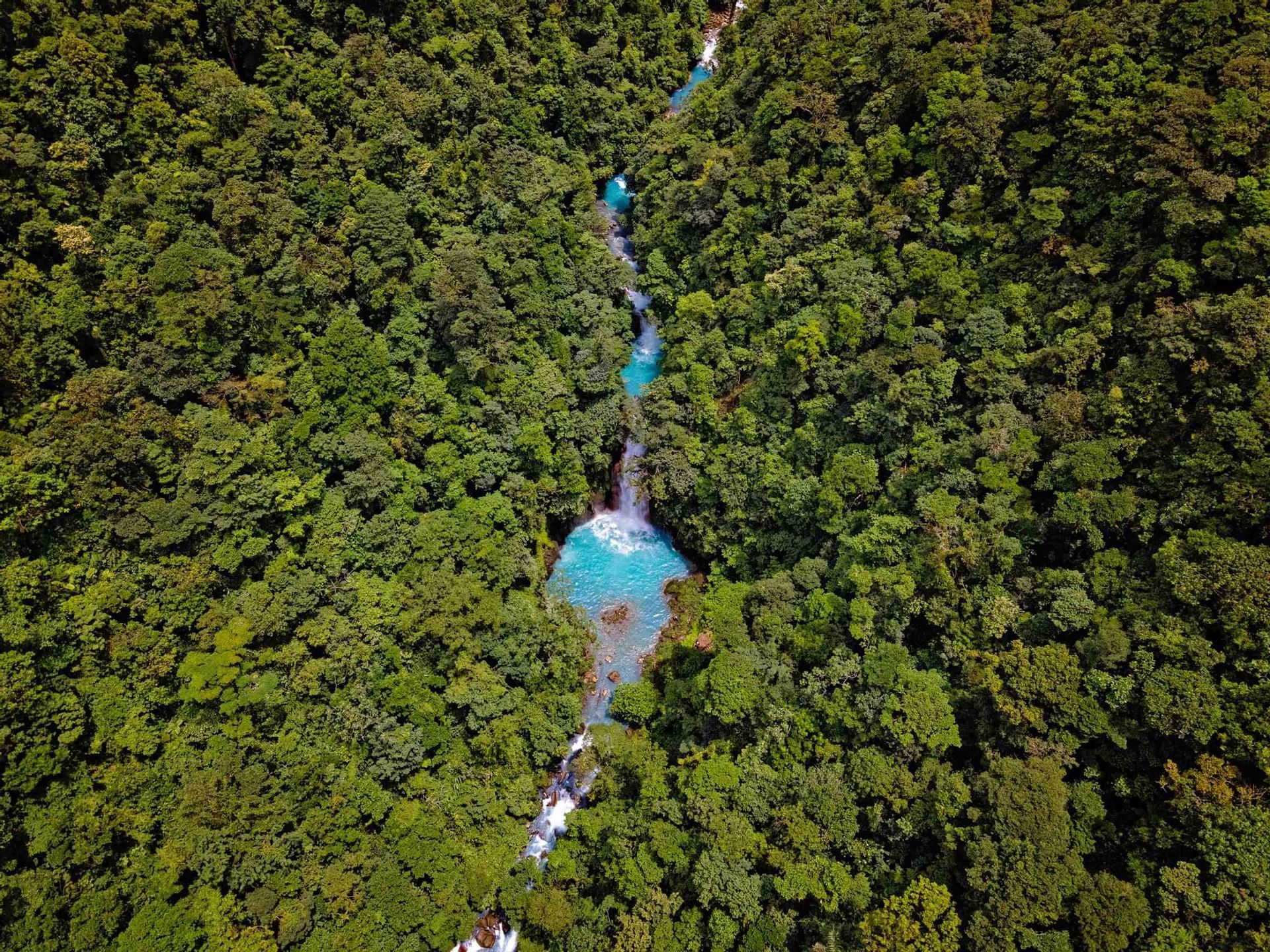 Each one of our 26 spacious casitas, or bungalows, provides an exclusive retreat so you, our dear guests, can relax amidst the breathtaking views. What better way to start and end your day of enjoying the lovely rainforest setting and abundant activities nearby?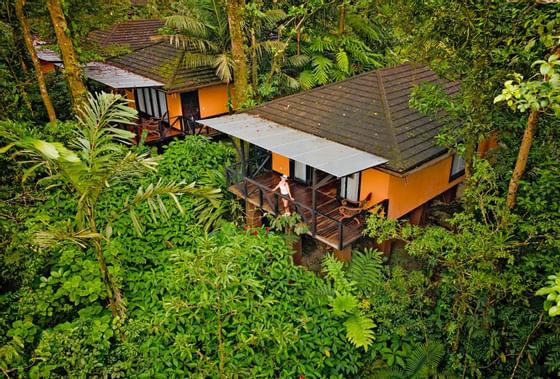 Our Casitas Deluxe Forest View provide guests with maximum privacy and feature decks with direct views of the rainforest.
Learn More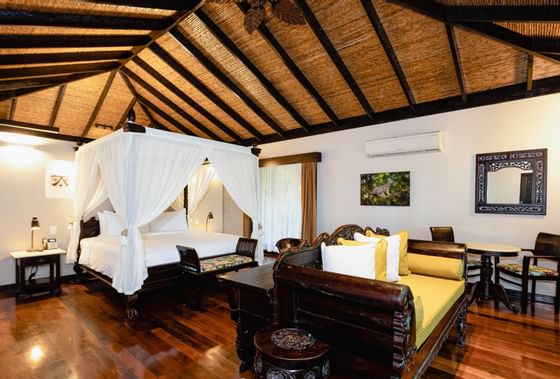 Our spacious Casitas Deluxe - Garden View are conveniently located close to all the hotel amenities and have stunning lush garden views.
Learn More

RESTAURANT & BARS
Satisfy your appetite after an invigorating trek or a morning spent relaxing next to our sparkling freeform pool. Río Celeste Hideaway Hotel offers you the option for a poolside snack, a casual cocktail or an exclusive dining experience.
Our special offers in Tenorio Volcano National Park
Find the best prices and offers booking on our website! Booking with us you can also enjoy 20%off in our spa, 15% off on lunches at our restaurant, and our free night walk tour at the property
Your adventure begins here
Nestled within one of the untouched rainforests of Costa Rica, Rio Celeste Hideaway Hotel offers sophisticated comfort and style amidst lush natural beauty. The hotel is in a secluded rainforest adjacent to the Tenorio Volcano National Park, which boasts the breathtaking Rio Celeste River, the jewel of Northern Costa Rica. Tours and activities nearby provide an astounding array of experiences.
Rio Celeste Hideaway - The Wildlife Experience
Hidden in Northern Costa Rica, on the footsteps of volcanos besides a turquoise river is a place where the wonders of nature can thrive. With species found nowhere else on earth and others globally threatened in a landscape of awe-inspiring beauty. We are not just here to experience it, we are here to preserve it. With our own protected forest and as a proud supporter of the Costa Rica Wildlife Foundation, protecting nature is at our core while sharing it is our passion. Join us!

Espectacular hotel, las habitaciones tipo casita son preciosas y además la zona de alrededor, junto al río celeste magnífica para ver naturaleza y animales. Comimos y cenamos genial y la gente del hotel nos trató de 10. Recomendable 100%

2021-12-04
What a gem of a property!

We stayed 2 nights here in May 2021 in order to visit the Rio Celeste Waterfall and the trails around Rincon de la Vieja. What we didn't know beforehand is what a gem of a property this is. I mean this is like 4-Seasons level quality! OMG the bungalows we had were well appointed, huge and spacious, luxurious, with big comfy beds and sparkling clean everything. They have these outdoor showers which were amazing, so functional yet beautiful & natural at the same time. The pool area was gorgeous. The restaurant food was excellent. And one more note about service: the reception desk had the most wonderful customer-oriented and caring person I have ever had in my hotel experiences, and I have travelled globally for many years.

2021-05-30
50th Birthday Celebration

What a gift it was to stay at this hidden gem in the Rain Forest. The rooms were beautiful, food was delicious, pool & swim up bar were exceptional & the staff were so precious. Cannot wait to return!

2021-11-26
So Lovely at The Hide Away!

From our first steps onto the grounds, we knew this place was special! Then, to enter the room was beyond breath-taking. The touches were beautiful, stylish, warm and inviting. Everyone we encountered were the same: warm & genuine, fun & friendly. It was such a magical time there.... special highlights were our own bartended pool party in the pouring rain and the guided night walk. Thank you thank you Hide Away for unforgettable memories and the friendship!

2021-11-19
The property was beautiful and clean. The staff was incredible. Abby at the front desk was so welcoming and helpful. Ever, our waiter, made our dinners and breakfasts extra special. The food was wonderful. Pool was fabulous. Welcome drinks upon arrival were a nice surprise and they knew our names when we arrived. We loved our stay. We definitely would come again!

2021-12-14
Excellence at the Rio Celeste Hideaway

The family (2 grandparents, 2 parents, and 2 children ages 10 and 8) decided to take a mini vacation to Rio Celeste Hideaway: I must say hands down the best vacation I have had- hotel was spotless with COVID protocols in place. The food was consistently excellent and the drinks were also consistently satisfying. I highly recommend this hotel and plan on returning for a future visit. It is without a doubt a true value vacation; and the best way to enjoy Costa Rica!

2021-12-16
We've already booked a trip to return next year!

It was an incredible stay. We had the very best time at your special hideaway in the rain forest with our four children. The service was outstanding. A very special thanks for Nelson for taking great care of our family with very careful attention to detail. He pointed out wildlife and made sure we learned about all the special places the area had to offer. He took care of us for every meal. We loved the New Years Celebration as well! The concierge, tour guides and all of the servers and staff are so appreciative and knowledgeable of the area. Truly a special experience!


2022-01-01
Perfecto para relajarse con servicios de primera

Este hotel es perfecto para quienes buscan un lugar relajante con servicios de primera. La habitación impresiona de lo amplia y el buen gusto en el diseño y decoración. Me fascinó la ducha exterior. El restaurante es genial, platos elaborados de manera impecable y con un personal extremadamente profesional. La piscina está bien ubicada y tome un tour privado al volcán Tenorio que disfruté muchísimo. Sobresale la atención del personal.

2021-09-16
Tout est fait pour que l'on se sente vraiment bien

Nous venons de passer 3 jours dans cet endroit magique : confort haut niveau, conscience profonde du client, tout est fait pour que l'on se sente vraiment bien. Les chambres sont des petites maisons de 90 m2, décorées avec beaucoup de raffinement, avec des matériaux très nobles. Lit à baldaquin très romantique, spacieuse salle de bain, dressing généreux, terrasse aménagée sur la forêt. Bon petit dej permettant d'attendre le dîner. Personnel très, très sympathique. Des jardins luxuriants, des oiseaux splendides. Une ballade part de l'hôtel jusqu'au Rio Céleste, d'un bleu ciel incroyable. Vraiment a recommander.

2021-01-14

Frequently Asked Questions